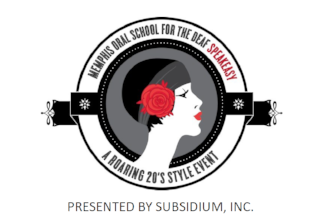 Memphis Oral School for the Deaf 6th Annual SpeakEasy Gala Presents 
ALL NEW ONLINE AUCTION!
sponsored by

---
Make sure to charge and bring your phones to the 6th Annual SpeakEasy Gala!
As a guest of this event, you will be able to preview silent and live auction items weeks before the big night! Bidding on silent auction items will open the morning of April 29th.  Online mobile bidding will give you the opportunity to view items before the gala and the convenience of bidding with the touch of a button. Text alerts will notify you if you have been out-bid and will give you the chance to increase your bid amount. Skip the Checkout Lines! Save your credit card in your personal account to take advantage of Express Checkout at the end of the night!
RESERVE YOUR TICKETS NOW to preview auction items as they are entered to our Auction Catalog and set up to start bidding! Can't  make it to the SpeakEasy? Purchase a "Wish I Were There" ticket in order to participate in the silent auction from across the miles.
Online Bidding Is EASY and FUN! 
Check out this quick video and be an expert bidder at the SpeakEasy Gala!
---
We Thank All Of Our Generous SpeakEasy Auction Donors!
---
Live Auction Items Generously Donated By:
Jerry "The King" Lawler
AutoZone
Glenn & Amy Newman
Richard Ramsey
Kemmons Wilson Companies
Leath Brothers Farms
Artist Michael Maness
Graceland Enterprises
Baltz & Sons Concrete
---
Silent Auction Items Generously Donated By:
Memphis Grizzlies       Autobahn Indoor Speedway       Barnes & Noble       Bass Pro       Bazaar       Brooks Brothers       C.J. Lilly & Company       Caesars Wine & Liquor       Chuck E Cheese       Children's Museum of Memphis       Memphis Zoo       CycleBar       Firestone       Forest Hill Photography       Frontier Western Store       Get Air Sports       Hewlett & Dunn Jean and Boot Barn       Ice House       IHOP       Incredible Pizza Company       Java Cafe       Kinnucans       Lasting Expressions       Loni's Fashions       Paint A Piece       Red Robin       The Ivory Closet       Greg & Melissa Morris       Vera Bradley       Warehouse 67       Ron Olson       Memphis Rock n' Soul Museum      L'ecole Culinaire       Interim       Pigtails and Crewcuts       Sissy's Log Cabin       PureBarre     Norwalk Furniture    The Pool School     Longhorn Steakhouse     The Silver Caboose     The Children's Museum of Memphis     Interim Restaurant     Soul Fish Cafe     One & Only BBQ     The Cheesecake Factory     Memphis Zoo     Malco Theaters, Inc     GTS Technologies     Stringer's Poplar Pointe Garden Center     C.J. Lilly & Company     Kinnucan's     Ken Pasley     Sass It Up     Firestone Complete Auto Care     The Dive Shop     Mid-South Ice House Ice Arena     IHOP     Incredible Pizza Company     Java Cafe     Loni's     Memphis Rock & Soul Museum     The Peabody Memphis     Red Robin     Sissy's Log Cabin     First Fruit Collection      Newk's     Katie's Kitchen    Germantown Day Spa     Chili's     Germantown Car Wash     Germantown Hardware     The Pasta Maker     Outback Steakhouse     The BBQ Shop     Dazzle     Super Cuts     Anthropologie     Dr. Elizabeth Domico     Hewlett & Dunn Jean & Boot Barn     Hollywood Feed     Sugar Plum Consignments     Moe's Southwest Grill     Butcher Shop     Pike Yoga     Premier Fabrics     Lisa Terry     Pure Barre Germantown     The Pink Nest     Mozelle Boutique     Germantown Commissary   Houston's     O'Charley's     Central BBQ     Cozy Corner     Mathnasium of Germantown     Yuletide Office Solutions     Germantown Fire Department     Paint a Piece        Skyros Designs     Arcade Restaurant     Chuck E Cheese     Gould's Spa     Visionworks     River Kings Hockey     STAX Museum of American Soul Music     Sun Studio     Vineyard Vines     Susan Edmonds     Wiseacre Brewing Co.     Vera Bradley     vomFass      Tops Bar-B-Q     Corky's BBQ     Elvis Presley Enterprises     doTerra International