"Hope sees the invisible, feels the intangible, and achieves the impossible."- Helen Keller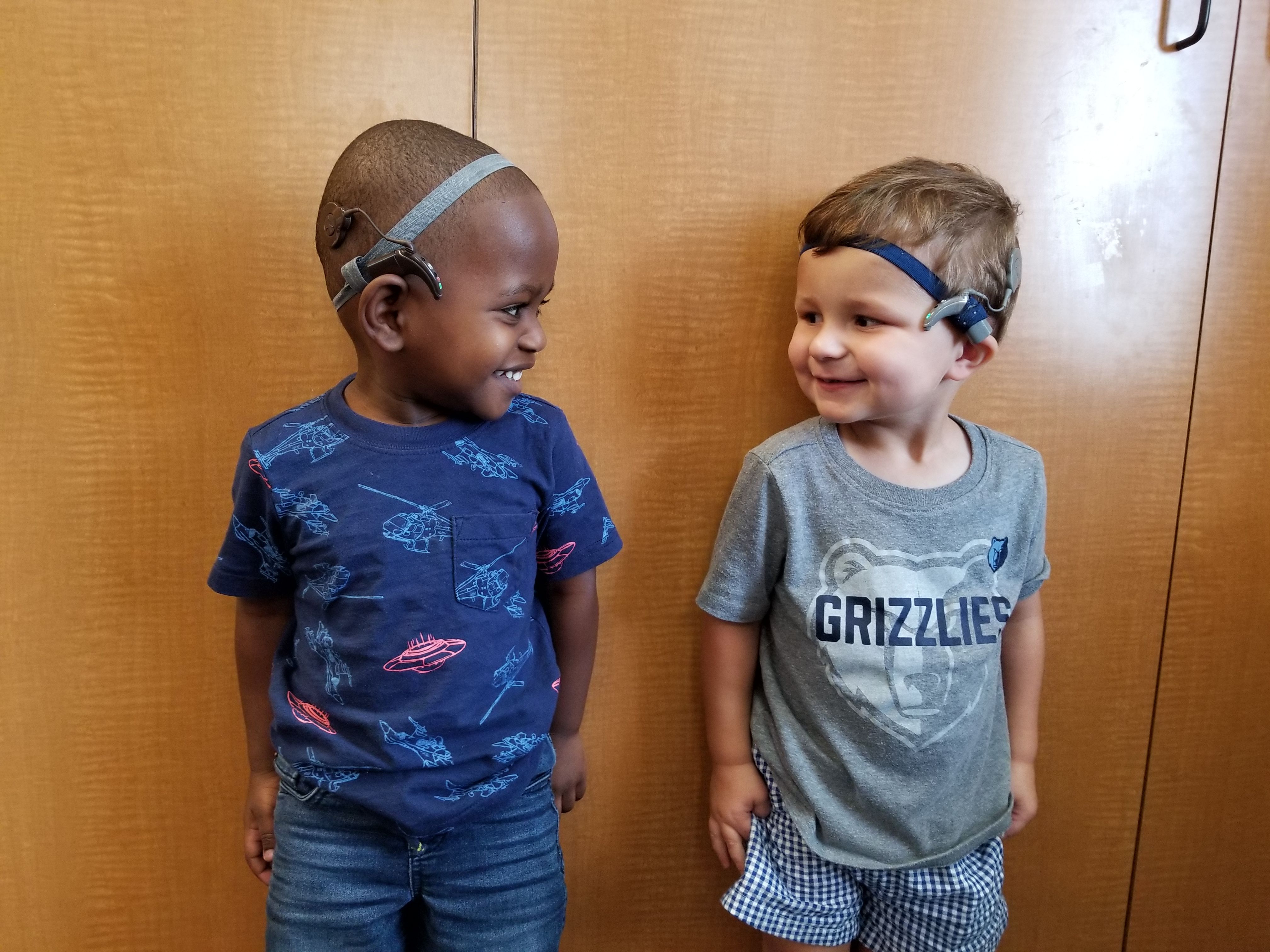 ---
FAQ
As a parent of a profoundly deaf or hard-of-hearing child, all of the questions can be overwhelming. MOSD is here for you. If you have more questions, please contact us at (901) 758-2228.
I want my child to be an oral communicator. Is it possible?

With today's technologies and specialized teaching, a deaf child has the opportunity to listen, learn, and talk. Research has shown that a strong spoken language base promotes better reading, learning, and academic success.

MOSD offers the only family-training program in our community serving babies (infants- age 3). Sound Beginnings provides a great foundation for learning, helping parents become the child's "first teacher" in the home. Once in the MOSD preschool, children received a full day's worth of classroom instruction focused on listening and spoken language skills. Students receive 30 minutes of daily speech therapy, 30 minutes of aural habilitation (listening therapy), and audiological services. No sign language is used.

MOSD does not use sign language. Our mission focuses on the oral approach to deaf education. With early identification, early amplification, and early intervention, even the most profoundly deaf children can build the listening and language skills needed to mainstream into kindergarten with their hearing peers.

MOSD services are available for children from birth until 5 years of age. Children typically begin attending preschool classes at 2 years of age. Our goal is for all children to mainstream into their neighborhood schools by kindergarten.

• For families who want their child to learn spoken language, MOSD offers to the most intensive and best approach to building a strong spoken language foundation
• We offer family-training and never turn any family away
• Our average school enrollment is 30 children
• Our average student to teacher ratio is 4 to 1
• We have a unique school setting offering age-appropriate curriculum, on-site audiological services, and speech-language therapy.
• MOSD is accredited by the Tennessee Department of Education. Our highly qualified audiologists, speech pathologists, and educators are licensed in the state of Tennessee and meet the state requirement for continuing education each year. We partner with several state early intervention programs in Tennessee, Arkansas, Mississippi, and Alabama
• We are a member of the OPTION Schools network, working with 35 other programs to advance excellence in listening and spoken language education
• We have been successfully educating students who are deaf or hard of hearing in the Memphis area for 60 years. Read alumni success stories and profiles on our Alumni Spotlight page

What is oral deaf education?

Oral deaf education is a collaborative education approach that develops a child's speech and listening abilities along with confidence and life skills to meet the challenges of the greater world. It integrates intervention, education, and sophisticated hearing technologies to enable children with a hearing loss to listen, learn, and talk.

There are essentially three types of hearing loss.
• Sensorineural Hearing Loss is permanent and results from damage to the inner ear or auditory nerve
• Conductive Hearing Loss results from something affecting the outer or middle ear, such as ear infections associated with fluid in the middle ear space.
• Mixed Hearing Losses are combinations of Sensorineural and Conductive hearing losses.

A cochlear implant is a surgically implanted hearing device that takes the place of the damaged inner ear structures that cause hearing loss by providing electronic stimulation to the auditory (hearing) nerve in the inner ear.

Absolutely! Children with any level of hearing loss are welcome at MOSD. It is just as important for children with mild or unilateral hearing loss to receive a strong foundation of listening and spoken language. Children with this degree/type of hearing loss can miss speech information (especially in noisy daycare/preschool/classroom environments) and often slip through the cracks. At MOSD, our children get a solid foundation of language and listening skills as we teach their families how to advocate for their child once they are mainstreamed.

School days begin at 8:30 a.m. and end at 3:30 p.m. Before care is available from 7:30 a.m. to 8:30 a.m. and after care is available from 3:30 p.m. to 5:00 p.m. School offices are open from 8:00 a.m. to 4:30 p.m. Monday – Thursday and 8:00 a.m. to 3:30 p.m. on Fridays.