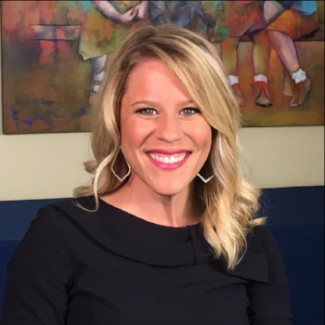 Brittany Pellegra is profoundly deaf, but she can hear and talk thanks to YOU!
Unlike Nathan's story, hearing loss ran in Brittany's family, skipping a generation. Brittany and her oldest brother were both born profoundly deaf to hearing parents. Seeing the challenges Brittany's deaf grandmother had in life, relying on sign language interpreters to communicate, Brittany's parents chose a different path. They wanted Brittany to be independent and to be able to talk.
"My parents found out about cochlear implants through MOSD. At that time, cochlear implants were so new and my parents felt very blessed to have an oral program in Memphis to help us learn to listen and talk."
Brittany did not receive her cochlear implant until she was four years old, missing several years of critical language development. Thanks to YOUR support of the programs at MOSD, she was able to learn language.
"I am grateful for the quality of life and success I have now. I have the ability to speak clearly and ability to hear with my cochlear implant thanks to help from the school."
Brittany mainstreamed into her local kindergarten after graduating from MOSD in the early 90's and has led a successful and independent life.
Giving blessings back to other deaf children, Brittany served briefly as a teacher's assistant at MOSD after graduating from University of Memphis. She is currently an active public speaker for Cochlear Americas and travels the world, using her experience to educate others with hearing loss about the benefits of cochlear implants.
She loves to swim, play sports, travel, and is active in her church.