Listening experience in infancy is critical for the development of both speech and language in young children and a strong spoken language base is essential for reading.
---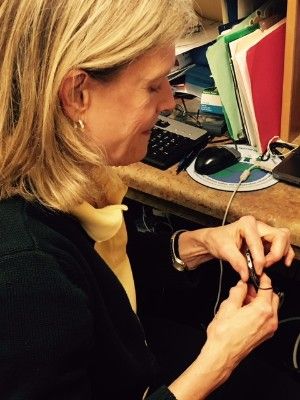 Audiological Services - MOSD
As part of their enrollment, MOSD children receive comprehensive audiological evaluations, including speech perception testing to monitor their listening progress over time. Cochlear implant mapping and hearing aid fine tuning is also offered to each family. 
The audiologists at MOSD perform daily listening checks of hearing aids and perform hearing aid maintenance as needed. They are on site every day to troubleshoot cochlear implant and hearing aid issues so that our MOSD children don't miss a sound. They also provide daily aural habilitation (listening therapy) to our school children to help each child maximize their listening skills. Goals specific to each child's listening needs are established to take them from the basics of sound detection to high level auditory processing tasks. 
MOSD audiologists work as a team with MOSD speech-language pathologists and teachers to help each child reach their educational, speech, language, and auditory goals. 
Audiological Services - Speech and Hearing Center of the Mid-South
MOSD audiologists provide a number of additional services* to adults and children in our community including:
Comprehensive audiological testing for children and adults
Hearing aid programming and troubleshooting
Real-ear measurements
Earmold provision
Diagnostic OAE (inner ear) and tympanometry (middle ear) screening
Aural habilitation therapy (auditory training or listening therapy)
Cochlear implant mapping and troubleshooting - Cochlear, Med-El, and Advanced Bionics
Pre-operative assessment & counseling for cochlear implant and osseointegrated hearing aid candidacy
Osseointegrated hearing aid programming & troubleshooting for both the Cochlear Baha family of devices and the Oticon Ponto family of devices
*These services are provided on-site at the Memphis Oral School for the Deaf.
---
Take A Listening Test!
Hearing the world with a mild high frequency hearing loss...
Word #1 - Bath
Word #2 - Pearl
Word #3 - Sour
Word #4 - Mouse
Word #5 - Learn
---
Forms: