10th Annual SpeakEasy Going Virtual!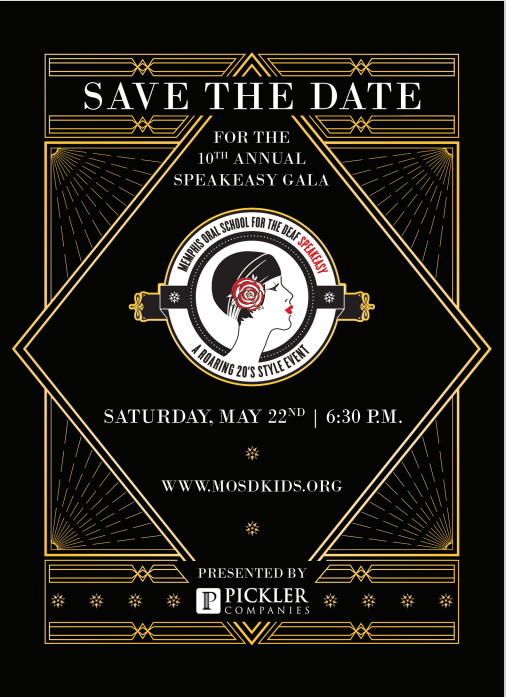 To mark this milestone year, MOSD is bringing you a full month of May Mayhem virtually for our 10th annual SpeakEasy, sponsored by Pickler Companies.  To celebrate the 10th anniversary of SpeakEasy, we are offering FREE access to our Online Auction and Live Virtual Event along with entertainment and fun throughout the entire month of May. So, dust off your glad rags, and break out your zoot suits because we are about to have a RIP-ROARING good time and YOU are invited! 
SpeakEasy May Mayhem begins May 1st with the opening of our online auction.  ALL of our items- both big and small- will be included in the online auction this year.  So bid high and bid often!  Our online auction features a catalog full of amazing items from our area's most outstanding restaurants, expert service providers and high-end retailers.  Throughout the month of May, we will highlight items to bid on, spotlight our sponsors, and bring you special entertainment by Nick Black on our Facebook page!  Our most prized auction items include a Grill Lover's Package complete with a grill, grilling supplies, AND a cooler full of choice grilling meats delivered to your door!  We also have several amazing hotel stays and custom getaways up for bid.  Can you think of a better way to end the COVID quarantine than by taking a trip?!  
SpeakEasy May Mayhem culminates with our Live Virtual Event on May 22nd at 6:30 p.m.  This Roaring 20's style presentation will be broadcast on our School Auction website and is included for FREE with your SpeakEasy 2021 Ticket. So be sure to tune in LIVE as we celebrate our 10th anniversary of SpeakEasy with special tributes to our sponsors and video testimonials from our students and alumnus. You will have an opportunity to sponsor one of our students and outbid fellow guests with the touch of a button for some of our most desired auction items which will be awarded to the highest bidder during this Live Virtual Event. By attending our virtual event, you will also be entered to win prizes and winners will be announced LIVE.
You can help us meet our goal by sponsoring SpeakEasy and by bidding on items! Sponsorships will include 1920's "loot bags" filled with libations and treats for you to indulge in at your Live Virtual Event viewing party. Every dollar raised goes towards providing a listening and spoken language education to children who are deaf and hard of hearing. Go ahead and get your FREE SpeakEasy 2021 Tickets NOW so that you are ready to bid when the silent auction opens on May 1, 2021.  You will be able to preview available auction items beginning April 15th.   May is also "Better Speech and Hearing Month" and we hope to use the fun platform of SpeakEasy to bring awareness to childhood hearing loss.  
Feel free to contact us at (901) 758-2228 if you would like to sponsor SpeakEasy or if you have any questions.