No child is limited by hearing loss.
---
Every year, thousands of children are born with or acquire some degree of hearing loss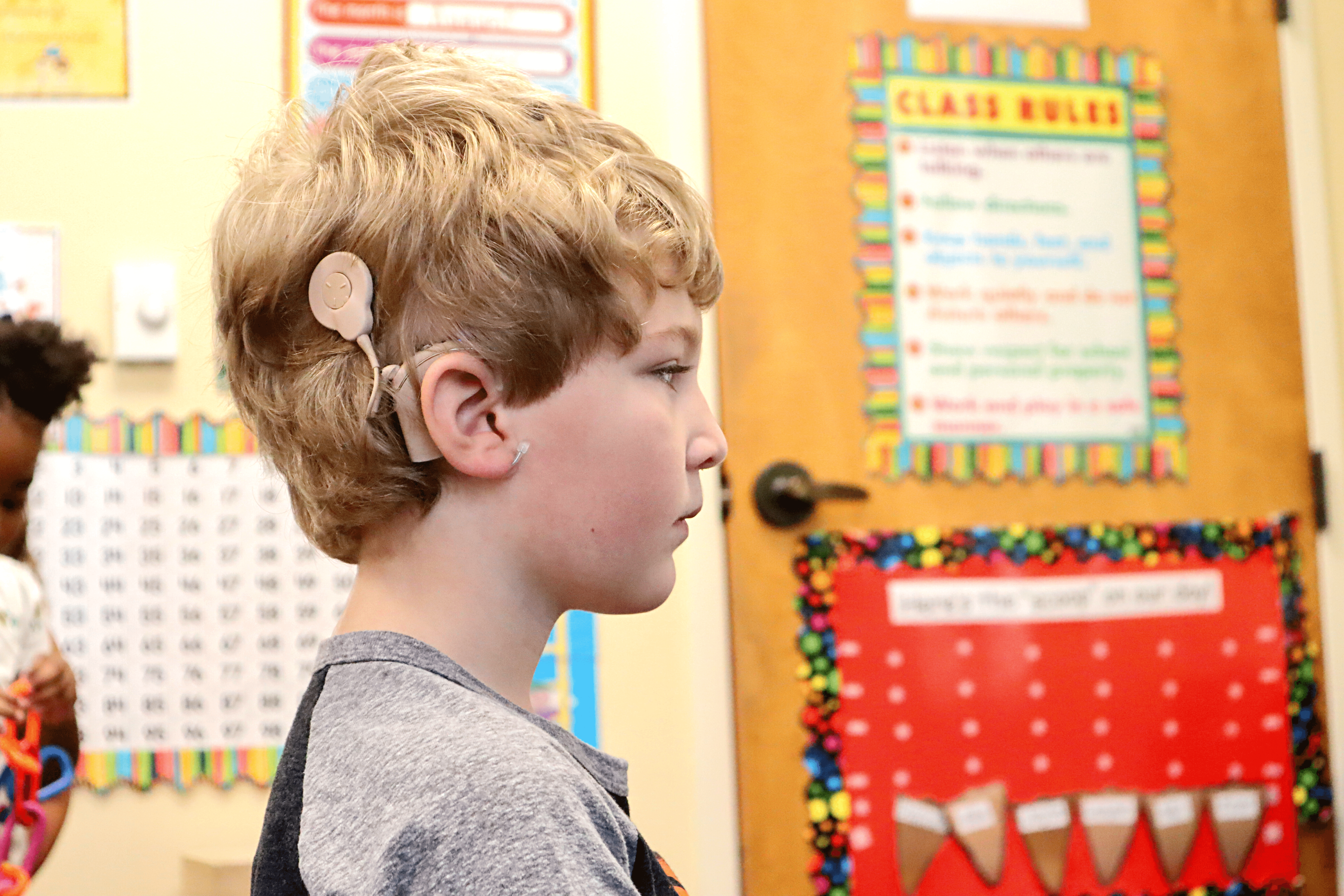 Audiological advancements have made it possible for children with hearing loss to access sound early in life. Early identification, amplification, and intervention help children build those foundational listening skills in order to develop spoken language. 95% of deaf children are born to hearing parents and parent-child interactions are critical for a child's success. MOSD supports the family's choice for intervention and the mode that will help the child be most successful in the family environment. Children have a very short few years in which the brain can develop spoken language, and we do our best to help each child reach their individual potential in this particular area.
As its name implies, the Memphis Oral School for the Deaf utilizes oral, listening and spoken language, instructional methods for the purpose of developing speech and language skills. The goal for every student at MOSD is to learn to listen and talk. Through early intervention, proper amplification, a specialized listening and spoken language education, a child with hearing loss can develop speech and language skills that will allow them to lead independent lives in a world full of sound. 
MOSD is a member of OPTION, an international network of organizations with exceptional professionals providing listening and spoken language services to children who are deaf or hard of hearing. The purpose of every OPTION organization is to facilitate and support the cognitive, social and emotional development of babies with hearing loss as families help their child become proficient with spoken language. OPTION professionals such as Teachers of the Deaf/Hard of Hearing, Speech Language Pathologists and Audiologists have the background, training, and expertise in using specific methods and strategies to support children and their families in the development of listening and spoken language. 
OPTION ORGANIZATIONS BELIEVE:
Every family has the right to choose the method of communication that is best for their family.
Proficiency in the chosen communication mode is essential for the child's social, emotional and academic fluency.
It is important for families to be educated about the choices regarding language for their child who is deaf or hard of hearing.
Every family has the right to choose any additional languages that will support their child's development.
Parents need access to accurate information regarding their child's hearing loss, the benefits/limitations to technology and other factors that may affect their child's development of language.
All professionals are responsible for ensuring families have accurate information about, and access to, resources needed to support the language chosen by each family.
WHEN CONSIDERING ADDING A NEW LANGUAGE OPTION ORGANIZATIONS BELIEVE:
Families need education about the benefits and risks before selecting a language other than their native tongue.
Families need support in developing a plan to ensure their children have access to robust, full and fluent language models in the languages of their choice.
Families need information to appreciate the investment of time and resources involved with learning a second language.
Each family needs to understand the commitment to learn a new language will continue as their child's language grows.
OPTION organizations are dedicated to supporting families of deaf or hard of hearing children on their journeys.