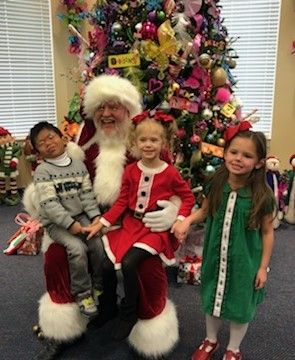 Santa made an early visit to the children at Memphis Oral School for the Deaf this year! On Friday, December 15, he stopped by our annual Holiday Party to give out gifts and talk with each child at the school!! 
The children squealed with delight as he entered the room with his bag of toys! They waited very patiently as he called each one by name to allow them to sit on his lap and have a little conversation about how good they had been this year and exactly what they wanted for Christmas!! 
The room was filled with MOSD staff, students and their families as we all celebrated the season with holiday treats.   
We were delighted to have back our very own Santa Kennison back for another year of holiday spirit!!
Please enjoy the photos and We Wish You A Merry Christmas and Happy Holidays!