MOSD Announces Departure of Executive Director and Begins Executive Leadership Search
---
A LETTER FROM OUR EXECUTIVE DIRECTOR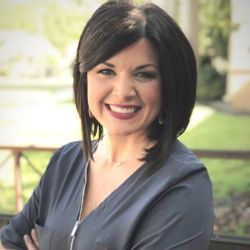 Dear MOSD Friends,
It is with an indescribable mix of emotions that I share with you my upcoming departure from Memphis Oral School for the Deaf as its Executive Director. MOSD has such a special place in my heart. I am full of sadness, gratefulness, and love as I leave behind and amazing organization, staff family, and the children who I am privileged to hand-hold daily.  I will treasure all of the relationships built at MOSD and in our community as my family and I head back "home" to Louisville, Kentucky in October. I have had the honor of being chosen to lead an organization I am equally passionate for, Day Spring, an organization empowering adult with intellectual and developmental disabilities.
I have been a "Memphian" since 2010. During my time here I met my husband, had twin boys, built a home, served the community, and held my dream career. God knew we needed Memphis. I first learned of MOSD when I needed it…after my son was diagnosed with hearing loss. My passion ignited an urgency in my life to help others through advocacy and awareness. It has truly been a privilege to lead this organization through program expansion and to help families on the same journey ours are on.
I am proud of the exceptional team of professionals who lead our programs at MOSD. We have overcome challenges in a pandemic and have met fear with courage. Through resilience, one thrives. I leave MOSD knowing this organization is on sound financial footing and that its staff and Board of Directors will ensure future success and impact of our mission.
My passion for children with hearing loss will never end and I will carry it with me wherever I go. 1 Corinthians 3:6 states, "I planted the seed, Apollos watered it, but God has been making it grow. ... He who plants nor he who waters is anything, but only God, who makes things grow."  I am honored to have had the chance to make a positive impact at MOSD and I am confident that the incoming Executive Director will be the right person for the next chapter of this journey to take MOSD to greater heights.
In the coming months, our Board of Directors will be actively engaged in finding the right candidate to succeed me as Executive Director.  During the succession transition, I will continue to be involved to guide staff and help with the selection process. We will announce our selection to you as soon as possible.
I have been BLESSED beyond measure through my time in Memphis and by Memphis Oral School for the Deaf. If I could take everything and everyone with me to the bluegrass, I would in a heartbeat. Since I can't, I will be sure to visit often. I hope I have inspired others and leave behind much love to all of you.
With Abundant Gratitude,
Lauren Hays, MOSD Executive Director