Subsidium, Inc. Presents $250,000 Check to MOSD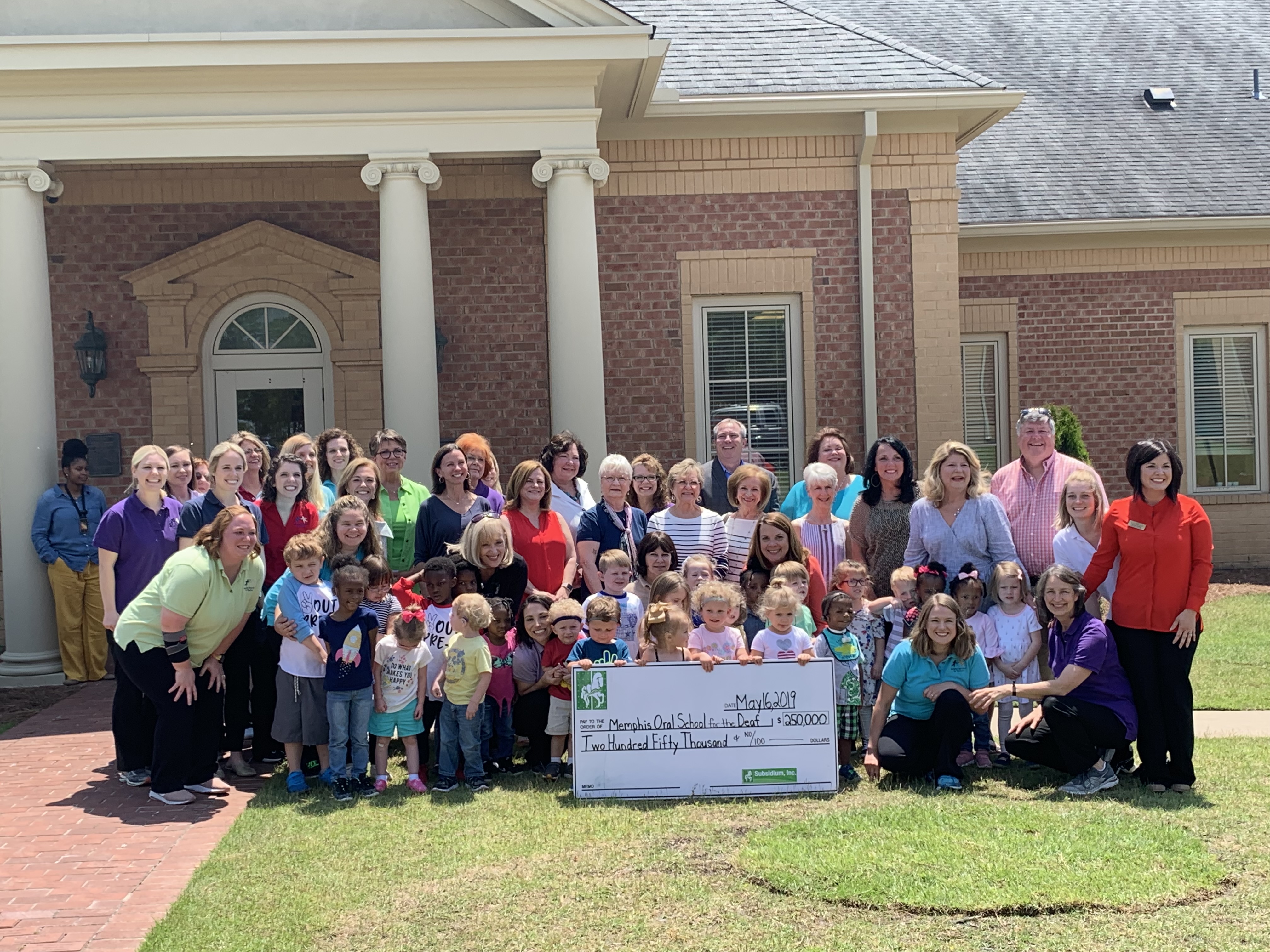 Subsidium, Inc. presented Memphis Oral School for the Deaf (MOSD) with a $250,000 donation on Thursday, May 16th. The supporting organization has gifted more than $5 million to MOSD over its 50 year history. The presentation marks Subsidium's final gift to MOSD as the non-profit completes its dissolution in 2019.
Subsidium, Inc. was founded in 1968 by parents of an MOSD student as a non-profit auxiliary in support of Memphis Oral School for the Deaf and its mission to Empower Deaf Children to Listen, Learn and Talk. "Subsidium" is a Latin word which means "troops stationed in reserve in the third line of battle." The members of Subsidium think of themselves as a third line of defense, after parents and the school faculty, in the effort to give children who are deaf and hard of hearing the gift of speech.
In addition to their considerable funding support, Subsidium has continually provided volunteers to MOSD. The group established a Teachers' Resource Center, Parents' Resource Center and a library donation program. The resource centers provide instructional and information materials for teachers and parents as well as hands-on manipulative and teaching devices. Subsidium members have served on the Memphis Oral School for the Deaf Board of Directors. The organization also contributed $100,000 during the 2007 capital campaign to build the school building in Germantown where MOSD resides.
This $250,000 donation will allow MOSD to purchase a portion of the Kingsway Christian Church campus in an effort to secure the location of MOSD and to become an independent entity in Germantown.
In addition to the final gift, Subsidium has dedicated a flag pole as a standing memorial of their long-time support of the school.
Subsidium members continue to support MOSD through financial gifts and volunteer support even as the organization formally closes its doors this year. The impact of the organization on MOSD is profound and has shaped the history and future of MOSD and its ability to serve all children who are deaf and hard of hearing in the community.
Click here to see more photos.