MOSD Student Activities April 20 - 24
Each week that MOSD is closed due to the COVID-19 pandemic our professionals are providing activities for students and their families to do at home in addition to their scheduled classroom times and teletherapy! 
Feel free to follow along and do these activities with your family! 
---
Check out this great language lesson with Ms. Abby and her daughter, Rhodes! 
The video below is an outtake from Ms. Abby's language lesson. This outtake is a great reminder that things don't always go according to plan and that is OK! It is important to know when to stop and not push your child any further. 
---
Hide and Seek
This is a great language activity that will get your whole family moving. It can be played inside, or if the weather is nice it would be fun to play outside. Although this game is typically played with people, you can add a twist to the game. You can play musical hide and seek, have your child hide and let the dog find them, or hide items for your children to find.
Steps
"Cover your eyes" and count to ten.
Let your child know you are coming by exclaiming "Ready or not, here I come".
Pretend to look for your child looking, under, in, behind, and on top of items. Use words to describe where you are looking. For example: "Bobby is not next to the chair. He is not behind the door. Oh, there you are under the blanket!" Use vocabulary appropriate for your child and include more location words (prepositions) depending on your child's language level.
Give your child and siblings a turn. Have your child count to whatever numbers they have been working on 1-5, 1-10, 1-20. After they find you, have them show you and tell you where else they have looked for you.
Variations of Hide and Seek
Musical Hide and Seek
Hide a musical toy, a cell phone with the ringer going, or a timer.
Turn on the music and hide it. Begin with easy locations. As your child experiences success, you can make it more challenging by putting it inside of something like a box. Have your child search for it by listening for the sound.
Hide and Seek with the Family Dog
Hold the dog while you count to ten. Ask the dog, "Where is Bobby?"  Release the dog and have your child call for the dog.  "Spot, come find me."   It might be helpful to give your child a treat for the dog to assure he will go find your child. 
Hide and Seek with Objects, Color Cards, Number Cards, Letter Cards, or Word Cards
Prior to the start of the game, hide several items for your child to find. You can use objects for vocabulary your child is working on or cards with colors, numbers, letters or words depending on your child's level as well as siblings' levels.
Have your child search for the objects or cards. Assist with clues when needed.
Talk about the things he/she has found.
Seek & Find Books 
example: Where's Waldo by Martin Handford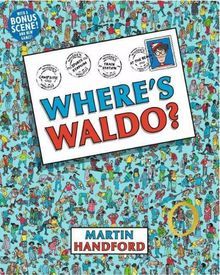 ---
Baking Cookies
Materials
Depending on Recipe

Cookie Mix, oil, butter, eggs, water, sugar, chocolate chips, milk, etc.

Mixing Bowl
Spoon
Cookie Sheet
Oven
Steps
Prep cookies with your child by following the recipe
Let them take the lead as much as possible 

Have them 'read' the recipe if pictures are available

Focus on verbs: open, pour, stir, mix
Attempt Sabotage: See baking a cake video
When ready to bake, remind your child that only adults are allowed to use the oven!
Language Targets
1-2 Word Targets

Mmm, yummy!
Round and round
Open
Pour
Hot!

3-5 Word Targets

I want to stir
Open the cookies
Crack the egg
Mmm, it smells yummy
Can I eat one?

6+ Word Targets

Encourage higher level thinking by asking questions such as ''Why do we need to put the cookies in the oven?" "What should we do next?" "What will these cookies taste like?"
Take what your child says to model correct language structures and to add higher level vocabulary.
Book: Baking Day at Grandma's by Anika Denise